Conference method: Hybrid (Online and in-person)!
Conf dates: 9-10 March, 2024.

3rd International Conference on Image Processing and Robotics
Place: Galleface hotel, Colombo, Sri Lanka
ICIPRob2024 (International Conference on Image Processing and Robotics) will take place in Sri Lanka. ICIPRob 2024 is a premier interdisciplinary platform for researchers, scholars and engineers to discuss their latest research findings related to image processing, robotics and their connected disciplines.
Topics
Topics of interest include, but are not limited to:
Image processing and related aspects

Computer vision
Medical informatics
Pattern recognition
Document image processing
Character recognition
Data mining
Bio informatics
Vision based data analysis
Virtual reality
Natural language understanding
Machine learning
Vision based security systems
Surveillance systems
3D vision
Multi-camera systems
Satellite image processing
Under-water vision
Human-Computer interaction

Robotics and related aspects

Robot design
Robot control techniques
UAV
Robot vision
Service robots
AI and its applications
Haptics
IoT
Brain–computer interface
Automated systems
Home automation
Wheel chair control
Embedded systems
Robot communication systems
Human-robot interaction
Intelligent transport systems
Automated driving
Sensor networks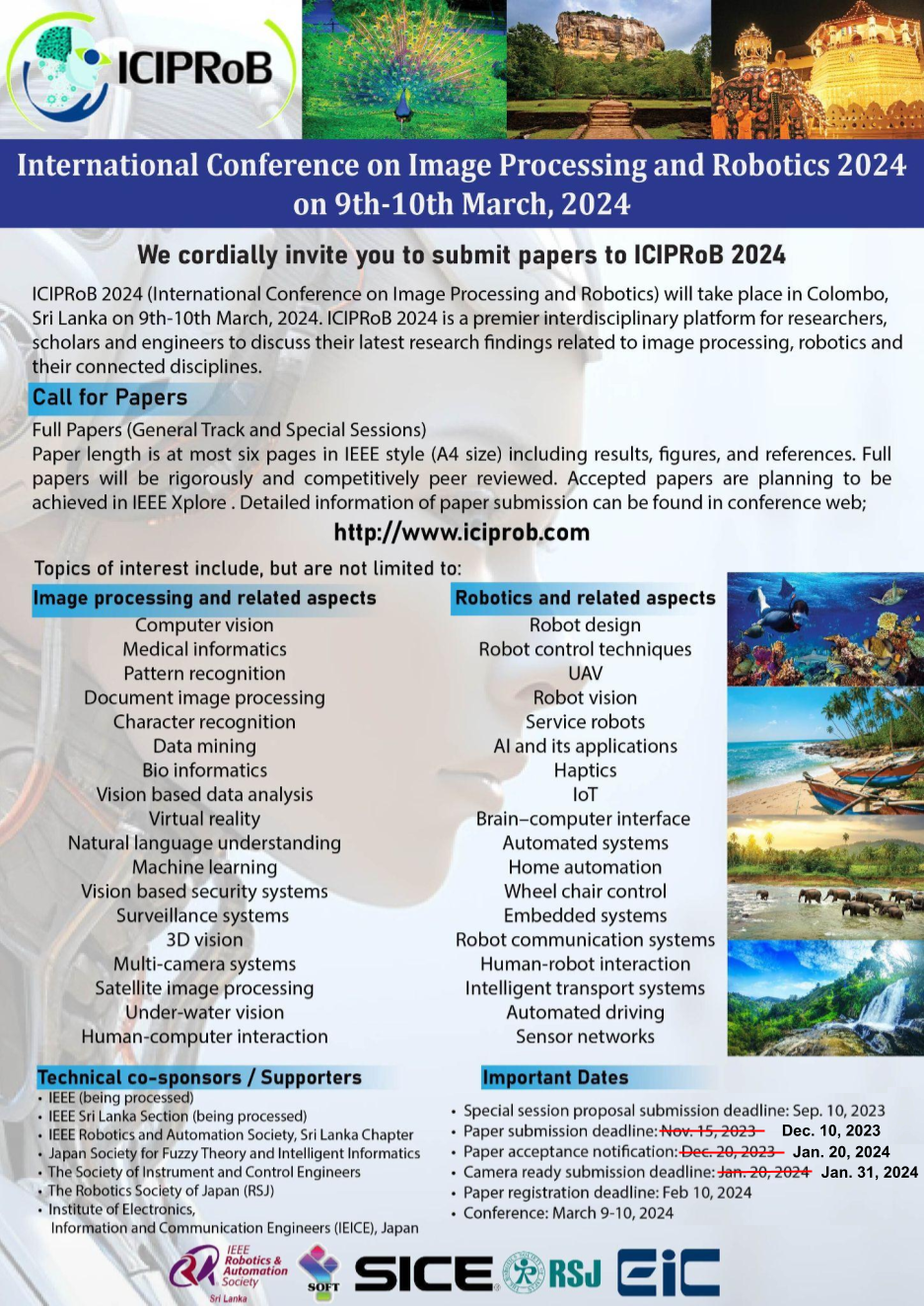 Sponsors & Supporters
IEEE Robotics and Automation Society Sri Lanka Section Chapter
Japan Society for Fuzzy Theory and Intelligent Informatics
The Society of Instrument and Control Engineers
The Robotics Society of Japan (RSJ)
Institute of Electronics, Information and Communication Engineers (IEICE), Japan
Copyright © 2020- 2024 ICIPRoB 2024 - International Conference on Image Processing and Robotics. All rights are reserved.